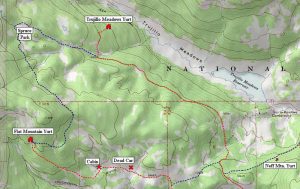 The Flat Mountain Yurt lies below the ridge that separates the upper Wolf Creek drainage and the Chama River basin. It is a 4 mile ski across open meadows to the yurt. From the yurt one can access the ridge that runs from Cumbres to Wolf Creek Passes. The views into the Chama River Basin from this ridge are breathtaking. The skiing includes the 2500-3000' drop off into this basin. Extended touring intermingled with turns is a highlight of this yurt.
Click an image below to enter the Flat Mountain Yurt slideshow.
There is no gallery selected or the gallery was deleted.