Cumbres Pass Yurts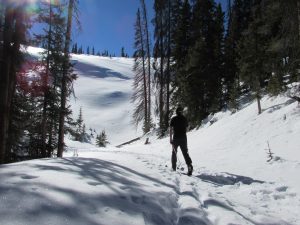 The USDA Natural Resources Conservation Services monitors the snow depth at Cumbres Pass with a Snotel gauge (Cumbres Trestle) which produces daily/hourly reports.
Taos Yurt
The snotel report for Taos Ski Valley can be found under New Mexico/ Taos/ Taos Powderhorn.
The daily report for Taos Ski Valley is also an excellent approximation for the snow depth at the Yurt. However, during early season and low snow scenarios the ski valley report can include man-made snow while the Yurt will not. There are also live cams of several locations at the Ski Valley for up to date weather and conditions.
Weather
Please find the weather reports from the NOAA (National Oceanic and Atmospheric Administration) below.
Cumbres Pass Yurts
Click Chama weather for an approximation of the report for Cumbres Pass.
Taos Yurt
Click Taos Ski Valley weather for the latest at the Yurt.
Road Conditions
For New Mexico check nmroads.com; call 511.
Colorado (which covers Cumbres Pass, i.e CO 17) check cotrip.org.
Check out the live cams on Co 17 for the latest near Cumbres Pass. Click on either of the two southern most icons west of Antonito and east of Chromo.
Call 303-639-1111 for a recording that has the relevant info you need when it matters.
Avalanche Conditions
The Colorado Avalanche Information Center puts out a daily report for the South San Juan.
Check out the Taos Avalanche Center reports for info near the Bull of the Woods Yurt.