A yurt is a Mongolian dwelling dating back to the times of Marco Polo.
It is round with a lattice-work wall, tension cable, compression ring, and conical roof.
This simple yet effective design is renowned for its warmth and stability.
Our Yurts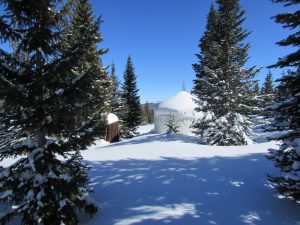 All 5 of our yurts are hand-made. They have been specifically built to handle the challenges of winter in the mountains.
The Southwest Nordic Center has been offering Yurt adventures since November 1987.
We started with one yurt, Neff Mountain, which is still the most popular of the Cumbres Pass Yurts.
In 1990 we added the FlatMountain Yurt. In 1994 Trujillo Meadows was included. In 1996 Grouse Creek Yurt joined the team.
In 1999 the Bull of the Woods Yurt was established above Taos Ski Valley. In September 2014 Bull of the Woods began operating on a year-round basis.
Through all these starts and changes Doug MacLennan has been the head cook and bottle washer. He was a lot younger when Neff Mountain Yurt was started, but still manages to break trail and ski with his headlamp as needed.