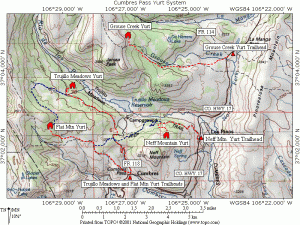 The Southwest Nordic Center is thrilled about its Yurt-to-Yurt and Yurt-to-Yurt-to-Yurt skiing.
Three of our Yurts (Neff Mountain, Flat Mountain, and Trujillo Meadows) can be connected to offer a variety of  multi-day backcountry extravaganzas.
You can ski between any of these yurts or do the circuit.
FlatMountain and Trujillo Meadows Yurts share a trailhead making it particularly easy to ski to and between them and out to the highway.
Availability
Click on one of these Yurt-to-Yurt possibilities above to check availability and/or place a reservation. Dates that are green may be selected as the first night of your trip. If you are interested in the triple Yurt-to-Yurt-to-Yurt trip, please call us at 575-758-4761.