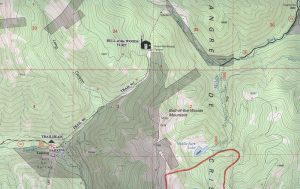 Click here to see Bull of the Woods - Summer.
The Bull of the Woods Yurt is two miles from Taos Ski Valley (9,300') at the Bull of the Woods Meadow (10,800'). This yurt allows hikers, backcountry skiers, boarders and snowshoers access to world class terrain. The yurt lies at the low point along the ridge between Wheeler Peak (13,161') and Gold Hill (12,700'). One may tour along this ridge into the high alpine terrain and spectacular scenery. Adrenaline junkies will want to take advantage of the extended verticals to be had off of this ridge. There is awesome spring skiing accessible from this yurt.
Click an image below to enter the Bull of the Woods Yurt Winter slideshow.